Travel Tips for Stress-Free Traveling with a Baby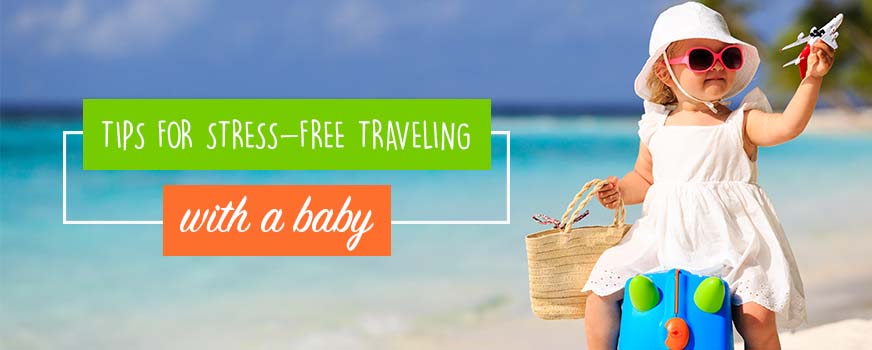 Stress-free + traveling + baby … is that even possible?
Traveling with a baby is a task some parents fear. Crying on the plane, diaper changes in awkward places, packing everything you need to keep the baby comfortable… it's nerve-racking – we get it! But it doesn't have to be stressful. There are many ways to alleviate some of the added stress and enjoy your trip. At the end of the day, family vacations should be fun for everyone (moms too!). 
Pre-planning and having the right mindset will ensure you have the maximum enjoyment and minimum worry during your trip. Use these tips to make traveling easier on your next family vacation. You'll soon realize traveling with little ones can actually be fun!
Get Them Excited
A key to making your trip the most enjoyable possible is to get the kids involved in the process too. Depending on the age of your baby, you can get them to participate in vacation planning that will get them excited about the trip. While you pack and do all your preparations, talk to them about the amazing adventure you're about to go on and all the fun they are going to have! Make it more involved by showing them pictures of where you're going and playing with stuffed animals of what you might see there, like fish for a beach vacation or woodland creatures if you're going camping.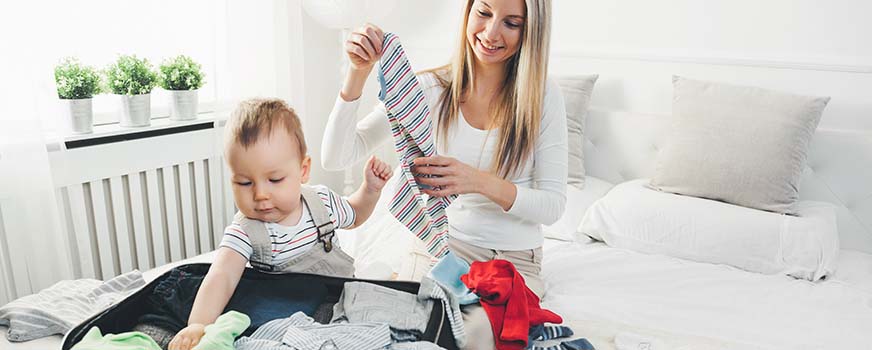 Pack Smart
While it is tempting to bring everything with you, you really don't need it. The convenience of packing light is well worth leaving that extra pair of shoes you probably weren't going to wear anyways! Remember, plenty of necessities can be bought at the location. Diapers, formula, wipes, extra pacifiers, bottles … don't let them take up space in your suitcase, buy as much as you can when you arrive. Little things add up to take up a lot of space and just stress. 
Also, don't bring clothes for every possible weather occasion. You're a mom, you like to be prepared. But when making your traveling-with-baby checklist, try to think as minimalistic as possible and only bring the essential baby clothes for your trip, perhaps with a few extra basics kept in the diaper bag just in case. The washing machine is your new best friend! You can always do laundry at your destination if you are renting an Airbnb or staying with a friend, or even some hotels offer a laundry service. If you don't have access to a washing machine on your trip, you can buy clothes if you're going somewhere close to a mall.
Don't Be Afraid to Pay for Convenience
Whether it's a more convenient flight departure time at a higher rate, more comfortable transportation from the airport to your hotel, or any other service that alleviates your stress, it might be worth the price tag. Your kids won't always be babies, with time, they will be more self sufficient travelers and be less of a stress on you. So do consider paying for these extra convenient services when you most need them. They may make the difference between a stress-free vacation and a nightmare.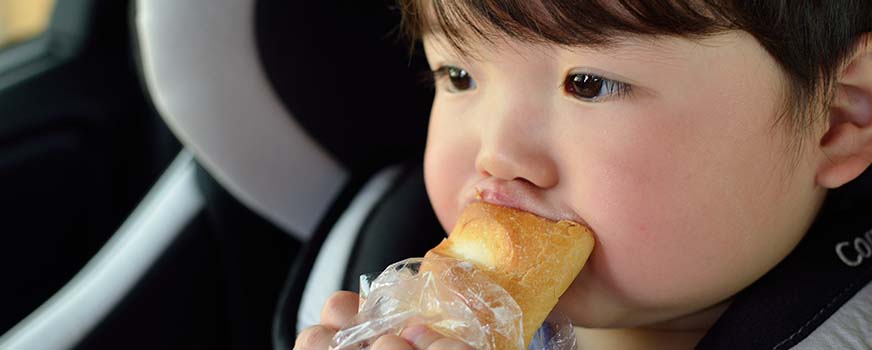 Bring a Snack (or two or three…)
Obviously be wary of overpacking, but packing a selection of your baby's favorite snacks, especially for long flights and car rides can be a godsend. Keeping them entertained with food is one of the easiest ways to ensure a smooth ride! Especially if it's a special food you don't usually give them such as cookies or candy. This will also help the associate traveling with a delicious treat. 
Arrive at Your Destination Early
One of the top reasons why moms worry while traveling with babies is because of time. It might feel like there's a song playing in your head on repeat "I'm running out of time, I'm running out of time…" This is why we recommend doing everything a little earlier than usual. Even scheduling your flight or other transportation earlier is a big worry-free travel move. You might even get a better deal!
Leaving early will help you get to your destination early and it will leave less time for stressing and more time for vacation! Your baby will be in a better mood than if you travel after a long day and if you leave really early in the morning, they might even be more likely to nap on the plane. It is also helpful to arrive early so you can get settled before going to bed. You'll have enough time to run to the pharmacy or convenience store for any of those items you planned to purchase at location and more time for your baby to adjust to a new setting. 
Check in with Yourself
Lastly, remember to check in with yourself and adjust your expectations from time to time. Everything will never be perfect. So remember to laugh at the silly things that don't really matter and focus on having a good time. Find moments to yourself too and ask others for help when you need it! 
Your babymoon wasn't the last stress-free trip you got to take! Use these traveling with baby tips and tricks to help you on your next family vacation, where you and your baby can enjoy the experience. Remember, to #1 priority is that you and your family enjoy yourselves and each other's company while making memories that will last a lifetime!