Spark the Romance in September Courtesy of Red Rock Fertility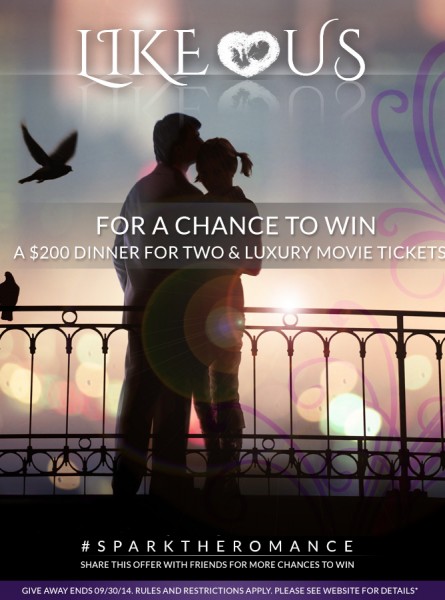 At Red Rock Fertility Center, we understand all of the emotions that go along with trying to conceive. While a lot of time and focus can go into details such as doctor appointments, diet changes and tracking fertility cycles, it is also important to make time for each other. Sometimes when a couple is trying to conceive, even intimacy can seem like work if treated too much like a part of the regimen. During these times, however, it is important to still enjoy your love for one another and the adventure of trying to expand your family.
With that said, we would like to make the possibility of a romantic night out a little easier for one lucky couple and that is why we are pleased to announce our Spark the Romance Social Media Giveaway.
Simply like our Facebook page and share the post with your friends to be entered to win a romantic evening for you and your significant other, complete with a dinner for two and tickets for a luxury movie experience.
Also, if you have a special someone that has recently done something romantic to show their affection for you, please share your story with us using the hashtag #sparktheromance on Facebook or Twitter.
Be sure to tag Red Rock Fertility Center – @FertilityLV
---
NO PURCHASE OR PAYMENT OF ANY KIND IS NECESSARY TO ENTER OR WIN THIS GIVE-A-WAY. A PURCHASE WILL NOT IMPROVE YOUR CHANCES OF WINNING.
THIS GIVE-A-WAY IS VOID WHERE PROHIBITED BY LAW. OPEN ONLY TO RESIDENTS OF THE CONTIGUOUS UNITED STATES OF AMERICA, EXCLUDING OTHER TERRITORIES AND POSSESSIONS. YOU MUST BE 18 YEARS OF AGE OR OLDER TO ENTER.
 SPONSOR: The sponsor of this give-a-way is Red Rock Fertility Center, 6410 Medical Center St. Suite A, Las Vegas, NV 89148.
 PRIZES; ODDS OF WINNING: One Grand Prize winner of the 2014 Spark the Romance Contest which will be selected by the sponsor will be a dinner gift card and a pair of movie tickets.
Odds of winning depend on the number of eligible entries received.
The winner may not substitute the prize for its cash equivalent. Sponsor reserves the right to substitute any or all of the prizes with any article or service of similar or greater value at its sole discretion. Prizes may not be assigned or transferred.
 HOW TO ENTER: You may enter the give-a-way by going to our Facebook page. Once on the page, users must follow the three-step process outlined on the tab. First, a user must click the "like" button. Second, he/she must provide a valid email address, and thirdly, users are encouraged to share the promotion on their personal Facebook Timeline to encourage their friends and family to enter. The more people they get to enter the sweepstakes through the link on their Timeline, the more times their name will be entered to win.All information entered by participants will become the property of Sponsor. Sponsor will not be responsible for lost, stolen or misplaced entries. The personal information that entrants submit will be subject to Sponsor's privacy policy. Sponsor may use the information you submit to offer you information on other offers or products or services. Illegible, incomplete, fraudulent or inaccurate entries are void. Only one entry per person is permitted.
 ELIGIBILITY: This give-a-way is open to all residents of the United States of America, excluding Puerto Rico and its other territories and possessions, who are over the age of 18 as of September 1, 2014. Persons in any of the following categories are not eligible to participate or win a prize: (a) persons who from and after September 1, 2014 were or are employees or agents of Sponsor or its affiliates or the service agencies or independent contractors of the above organization(s); (b) persons who are engaged in the development, production, distribution of materials, or drawing of winners for this give-a-way; and (c) persons who are immediate family of or who reside in the same household as any person in either of the preceding categories.
 DRAWING: The winner(s) will be selected in a random drawing by a representative of Sponsor, whose decision will be final and binding in all respects. The winner(s) will be selected on or about September 30, 2014 and will be notified within 7 days after the drawing by e-mail. In the event that Sponsor cannot reach the winner within seven (7) days after it attempts to notify the winner, Sponsor will select a new winner according to these rules. Additionally, if the winner is ineligible, it will be deemed as if the winner has rejected the prize, and Sponsor will select a new winner.
 SCHEDULE: The give-a-way begins on September 1st, 2014 and ends September 30, 2014. All entries must be received by 11:59 p.m. Pacific time.
 ADDITIONAL CONDITIONS: Sponsor reserves the right to terminate this contest if fraud, technical failures or any other factor beyond Sponsor's reasonable control impairs the integrity of the contest as determined by Sponsor in its sole discretion. At its sole discretion, Sponsor may disqualify any person whom it considers to have intentionally violated the Official Rules or any element of this give-a-way. By participating, entrants agree: (a) to be bound by the Official Rules and the decisions of the judge; (b) to release and hold harmless Sponsor, its affiliates, subsidiaries, and independent contractors, and their respective directors, officers, employees, and agents, including advertising and promotion agencies, from any and all liability with respect to acceptance, possession or use (or misuse) of the prizes or participation in the give-a-way. Winner agrees to permit Sponsor to use his/her name, address, city, state, photograph, videotape or any likeness for advertising or publicity purposes for no additional compensation.
 TAXES: Taxes (federal, state, and local) are the sole responsibility of the winner.
 WINNERS LIST: For the name of the prize-winner, available after September 30, 2014, please go to https://www.facebook.com/redrockfertilitycenter.
 COPY OF THE RULES: To obtain a copy of the rules please send a separate, self-addressed stamped envelope to Red Rock Fertility Center, Attn: Spark the Romance Sweepstakes, 6410 Medical Center St. Suite A, Las Vegas, NV 89148.
 APPLICABLE LAW: These rules are governed by the laws of the State of Nevada, without giving effect to conflicts of law rules.
 ONLINE ENTRIES: Use of any automated entry software is prohibited. Online entries made with multiple e-mail addresses, under multiple identities or through the use of any other device or artifice to enter multiple times will be deemed invalid. If the winner is an online entrant, the winning online entry will be deemed to have been submitted by the authorized account holder of the e-mail address from which the entry was made. The authorized email account holder is deemed as the natural person who is assigned to an e-mail address by an internet access provider, service provider or other organization that is responsible for assigning e-mail addresses or the domain associated with the submitted e-mail address. Sponsor shall not be responsible for incorrect or inaccurate transcription of entry information, technical malfunctions, lost/delayed data transmission, omission, interruption, deletion, defect, line failures of any telephone network, computer equipment, software, inability to access any online service or web site, inability to submit the online entry form, or any other error or malfunction, or any injury or damage to entrant's or any other person's computer related to or resulting from participation or downloading any materials in this give-a-way, or for late, lost, stolen, postage due, illegible or misdirected entries. If this give-a-way or any web site associated therewith (or any portion thereof) becomes corrupted or otherwise does not permit entry in the give-a-way, or if infection by computer virus, bugs, tampering, unauthorized intervention, actions by entrants, fraud, technical failures, or any other causes, in Sponsor's sole opinion, corrupt or affect the administration, security, fairness, integrity, or proper operation of this contest, Sponsor reserves the right, at its sole discretion, to disqualify any individual implicated in such action, and/or to cancel, terminate, modify or suspend this give-a-way or any portion thereof. Any attempt by an entrant or any other individual to deliberately damage any online service or web site or undermine the legitimate operation of this give-a-way is a violation of criminal and civil laws and should such an attempt be made, Sponsor reserves the right to seek damages and/or other remedies from any such person to the fullest extent permitted by law.