Romantic Gestures for your Pregnant Partner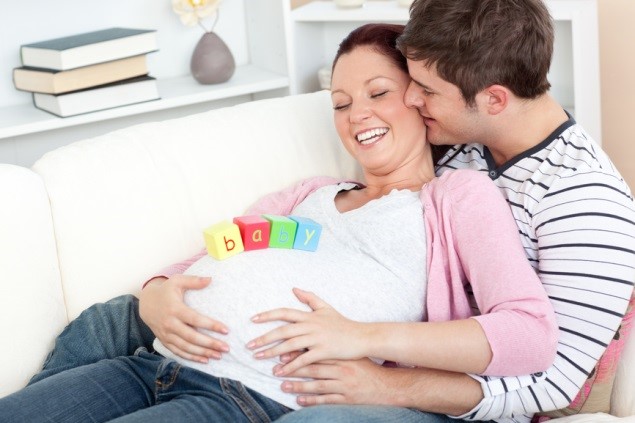 When she finally uttered those two magical words, "I'm pregnant," you were filled with excitement, joy, and awe. Now, those feelings are even more intense, made stronger with every fetal heartbeat, ultrasound, and outgrown maternity top. You're over the moon with love, excitement, and ambition for your growing family. Your partner, on the other hand, is probably feeling a bit under the weather. An out-of-the box romantic gesture can be just the thing to improve her comfort level, while giving the two of you some much-needed couple time before baby demands all of your attention.
1. Couples Pregnancy Massage
You've heard of couples massages, and you've heard of pregnancy massages. Why not combine the two? While this offering isn't likely to be listed on your local spa's menu of services, most massage therapists will be happy to accommodate. According to the American Pregnancy Association, prenatal massages can reduce stress and make labor easier. When your partner enjoys her prenatal massage next to you, she'll get the added benefit of quality time with her love. Stress can wreak havoc on relationships, but relaxation can do wonders for them. Try this method of rejuvenating your partner's health, mind, and heart.
2. 3D/4D Ultrasound
Yes, you'll be required to have at least two ultrasounds via doctor's orders before your little one is born, but those doctor's office visits rarely give you enough time to truly enjoy the miracle that is your son or daughter-to-be. Fortunately, there are many businesses willing to provide you with an extended ultrasound for fun, not out of medical necessity. Often more comfortable than sterile doctors' offices, these businesses typically offer videos and photos of your baby-on-the-way, as well as an hour or more of "viewing" time. Taking your partner away from her hectic life for an hour to spend alone with you and baby can help her relax, refocus, and bond with both of you.
3. Babymoon
Like a honeymoon, a babymoon is a vacation that provides some alone time for moms and dads-to-be who won't be getting much romance or sleep once their little prince or princess arrives. Whether you choose an overnight stay at your partner's favorite hotel or a weeklong cruise to the Bahamas, a babymoon shows your partner that you care about her – both as a mom and as the object of your romantic affection.
A new baby brings joy and happiness – as well as new concerns, stress, sleeplessness, and nausea for the mom-to-be. Show your pregnant partner that you love her with one of these romantic gestures.