8 Nursery Design Ideas and Baby Room Themes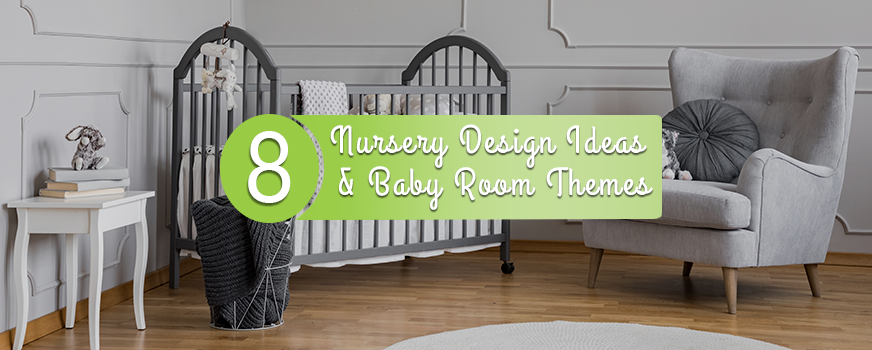 One of the most exciting activities to do when expecting is decorating the nursery! A nursery is a place of comfort and bonding with your baby. Take a look at these baby room themes and design tips to help spark inspiration while planning for this fun activity.
Baby Room Themes
Designing the theme of your baby's nursery is such a special time full of creativity and limitless ideas. You will be spending a lot of time in this room as your baby grows older, so designing a space that is comfortable for you, safe for your baby, and a bit stylish are all things to help make the nursery into a true part of your home. Whether you're in your nesting phase or just redesigning, choose from these sweet baby room themes to create a space that both you and your little one can enjoy.
Black, White, and Modern
For a sleek and modern nursery theme idea, forget the cutesy design ideas and focus on colors instead. Black and white color palettes are a huge trend in the interior design world and can make for a bold baby room. Go for white walls and add in pops of black in your decor to give a contrast that's noticeable, but not overwhelming. 
Keep this design idea in mind for other color themes as well. You don't always have to paint kid-friendly murals and decorate with tons of stuffed animals. Nurseries with modern design and subtle baby accents are the new trend.
Counting Sheep
You can't decide on a baby room theme without at least considering the nostalgic sheep theme we all have seen at one point or another. The main focus of this design idea is purity and innocence which is most often symbolized with a white color palette. Incorporate sheep decor in the form of art, pillows, and blankets and opt for soft textiles. If you want a splash of color, consider throwing in muted shades that add a sense of tranquility.
Exotic Safari
Lions, and tigers, and bears, oh my! Take your little one on a safari right within your home by including earthy colors, global accessories (animals, binoculars, African-inspired rug), and maybe even a classic white canopy. This exotic baby room theme gives you the opportunity to dress up the walls as well. Whether you paint up a fun animal scene or some lush greenery, the room is sure to be wildly terrific.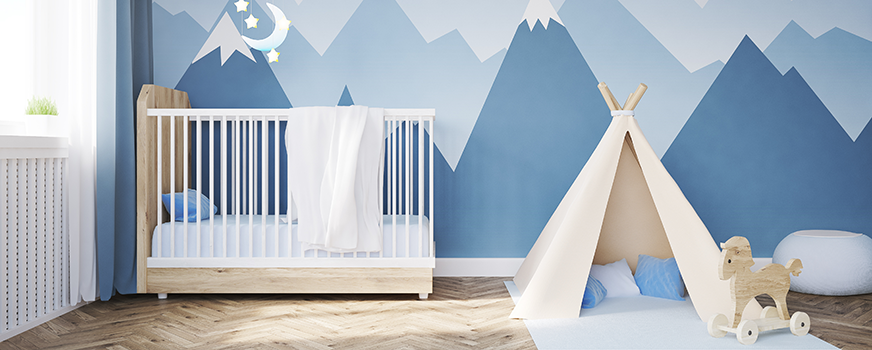 Mountain Wonderland
Bring the outdoors in with this rustic theme perfect for families who love the outdoors. A fun teepee, mural of mountains, and woodland creature accessories create a cozy spot for your little camper in the making. Opt for natural furnishings made of wood to give the space a log cabin feel to it as well. Keep in mind that the room's colors can be simple like gray and white or more accurate with greens and blues.
Natural Roots
Not every nursery theme idea needs to incorporate traditional elements like princesses and bright blue walls. Introduce your baby to earthy vibes by decorating with natural elements like a driftwood mirror, neutral colors, handwoven rugs, and plants. Add in a few baby elements like stuffed animals and a mobile and you've got a boho chic nursery!
Nautical Voyage
Ahoy matey! Let your baby sail away to a place of relaxation with a baby room theme fit for the big blue sea. Nautical-themed rooms are a breeze to decorate because you have lots of inspiration to work with. You can choose one nautical theme like an anchor to ground the room, or you can mix in different nautical decor like whales, helms, and lifebuoys. Navy and white are two primary colors that bring a beautiful contrast to the space too.
If you feel like taking a feminine twist on the nautical theme, dive into a mermaid design that's perfect for baby girls! 
Traveling Wanderlust
As parents, you want to give your children the world. Start when they're young by creating a captivating nursery theme idea that takes you around the world. A large-scale atlas, globe, toy airplanes, and maybe a few exotic animals set the stage for a room full of adventure. This theme can be as simple and monochromatic as you want, but don't be afraid to add in pops of colors in a vintage rug or chair.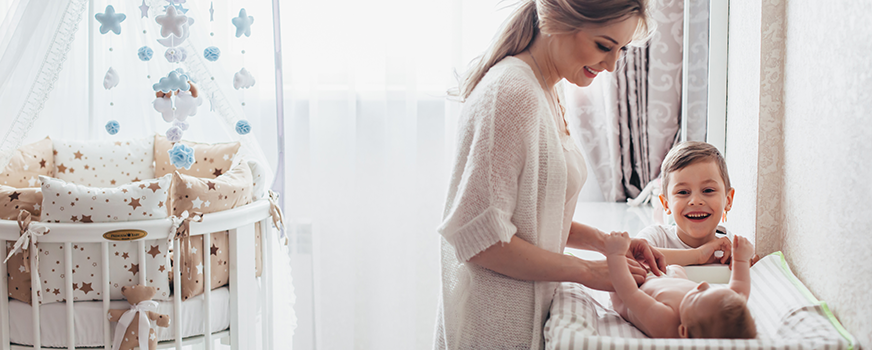 Nursery Design Tips
As you go through the process of nesting and choosing your nursery theme idea, it's important to hone in on the details instead of only thinking about the big picture concept. Consider these design tips that will make both you and your baby happy with the finished product!
Choose a Fun Mobile
If you aren't too sure about painting a fun mural on the ceiling of your nursery, try hanging a cute mobile for your little miracle to gaze at instead. Not only are they an adorable addition to any baby room, mobiles have also been proven to encourage sensory interaction in infants.
Install a Unique Light
Rather than choosing an ordinary lamp, get creative with your baby room theme and install a unique pendant light or table lamp for your reading area. The room itself may have more traditional items, but the light is a subtle touch that can be more creative.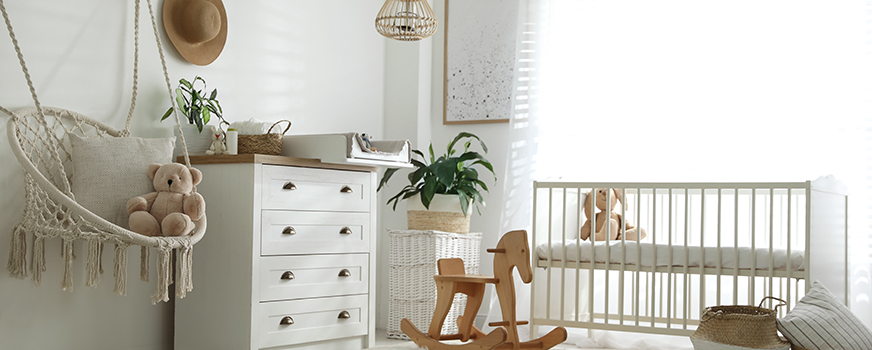 Decorate the Changing Table 
The behind-the-scenes of the changing table may not be too pretty, but the surrounding area can be! Be sure to decorate the background wall with cute photos, a DIY art gallery, or floating shelves for storage. You may also want to consider buying a changing table with drawers for discreet storage of supplies too, and always get a safe changing table to prevent any injuries from happening.
Opt for Durable Upholstery
Even though practicality isn't the most exciting topic to talk about when you're crafting up the perfect nursery for your baby, it's a crucial element to consider. Life is messy with newborns and toddlers, so it's important to choose durable upholstery for the decor pieces that will be used the most. Chairs and crib pads are just a couple items that are best with stain-resistant materials.  
DIY a Little Library
Reading time is going to be a nightly routine once your baby is born and for years to come, so you can't go wrong by incorporating a little library that mixes in well with your nursery theme idea. All you need is a comfy reading chair and a few floating shelves for books to have the reading nook you've been dreaming of.
With baby room theme inspiration and a list of practical design tips, you're ready to start the precious process of creating your baby's nursery room. Whether you're nesting and preparing for the arrival of your little one or are deciding on redesigning your current nursery, these nursery design ideas will hopefully give you a few ideas to make a special space in your home!