At-Home Date Night Ideas for Parents on Valentine's Day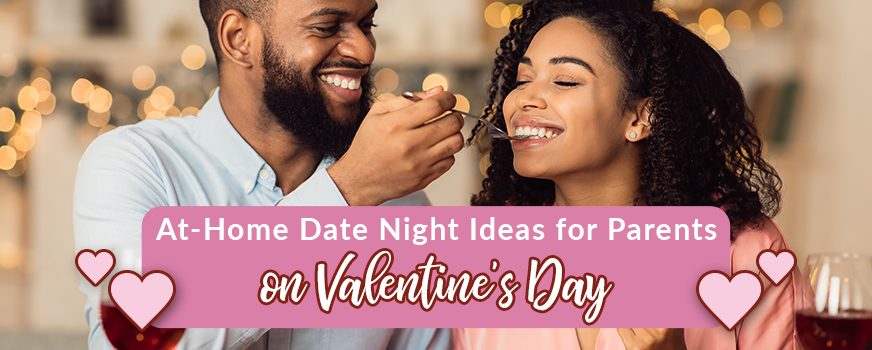 Date night may seem like a mythical concept when you are a new parent, but with the right ideas it can be done! From cooking with each other to planning our next trip, there are plenty of new parents' date night ideas you can do right at home. This Valentine's Day, use these tips to plan a romantic at-home date night so you can connect with your partner and have some 1:1 adult time.
At-Home Date Ideas for New Parents
Bring the Travel Home
Travel today is a bit different than it was in the past, and being a new parent definitely doesn't make it easier. If you're missing your travel escapades, have a staycation! Choose a place you'd like to be and recreate it at home. Mexico? Have tacos and margaritas. Italy? Wine and pasta. Japan? Sushi and sake.
Camp in the Backyard
If you have a backyard, set up a tent and go camping for a couple of hours. If the backyard isn't feasible for you – build a fort in your living room! Have some picnic-like food, look at the stars, and bundle up closely with each other. Just be sure to bring your baby monitor with you to ensure everything is safe outside of the campgrounds.
Compete in a Cook-Off
Want to get a little competitive this Valentine's Day? Recreate one of your favorite cooking competitions at home. Get a basket of random ingredients that the both of you need to create a dish out of and see who makes the best. Or, simply see who has the best chocolate chip cookie in the house. Both of you win with the delicious treats you make.
Cook a Meal
If a cooking competition is a little too much work after a day of parenting, you can tone down parents' date night by working together to cook a meal. Try something new, or recreate a meal from one of your favorite dates. Cooking is a great way to bond, especially when mealtime is a little different now with baby on board.
Create an At-Home Spa
Being a new parent is great, but there's no doubt it can also be stressful. A spa day at home presents a lot of opportunities for parents' date night ideas: massages, face masks, bubble baths, or even manis/pedis if you want to indulge. Another great thing about a spa date is the attire, nothing beats robes and slippers.
Get Crafty
Flex your creativity muscles this Valentine's Day by getting crafty. This is wonderful prep for all the arts and crafts you and your child will be doing in the future. Go on Pinterest or YouTube to find tutorials on what to do, or just wing it! You can also turn this into a fun painting-and-wine experience for the ultimate date night.
Have a Tasting Party
Chocolate. Cheese. Beer. Wine. Ice cream. Pizza… The possibilities are endless for a tasting party! Choose a food or drink and get 4-6 different versions to taste. Treat it like an official tasting and keep score of what you like best and what flavors you taste. It's always fun to see how your tastes compare!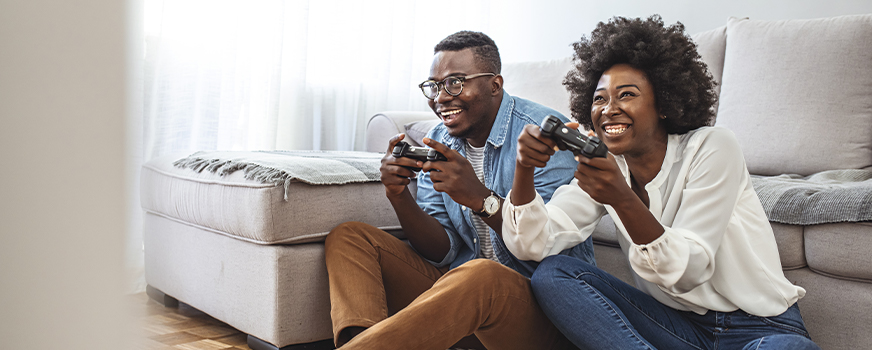 Play a Game
Having fun is an important part of any relationship, so make Valentine's Day extra fun with a game! Take a break from playing with baby toys and instead play an exciting game. Work together or get a bit of healthy competition with board games, card games, video games, and even puzzles, depending on your style of gaming.
Think of Your Next Trip
Grab a map, grab your couples bucket list, and grab your brainstorming abilities. Tonight, the two of you are going to dream about your next romantic getaway. You can either plan your dream trip, which is a whole lot of fun, or simply plan a realistic couples trip. Either way, the magic is in working together to create a wonderful idea.
Watch a Movie
Watching a movie might sound like a regular night in, but you can easily kick it up for Valentine's Day. Turn your living room into the full movie-going experience, popcorn and all! Depending on how long you want to dedicate to your movie night, choose a movie you'd both like to watch – or go for a full marathon! Then cozy up on the couch and press play.
This Valentine's Day, make it special within your own home. Being a new parent can mean you and your partner don't get as much alone time as before, but these at-home date ideas for new parents will make sure you have a fun, romantic, and memorable holiday. From all of us at Red Rock Fertility Center, happy Valentine's Day!