8 Fun Fall Activities to Do with Your Kids
Fall is a wondrous time of the year to create memorable moments with your young ones. What do you have planned?
What comes to mind when you hear the word "Autumn?" Is it an image of freshly-pressed apple cider, leaves changing colors on beautiful trees, or Thanksgiving dinner? Maybe fall connotes images of Halloween, pumpkin patches, or the ever-popular Pumpkin Spice Latte. Whatever fall means to you, it's a magical time of the year to create memories with your partner and kids. This year, add these eight fun fall activities to your calendar and take advantage of the cooler weather, gorgeous scenery, and fall activities to do with your kids. They're sure to have you and your kiddos screaming with delight!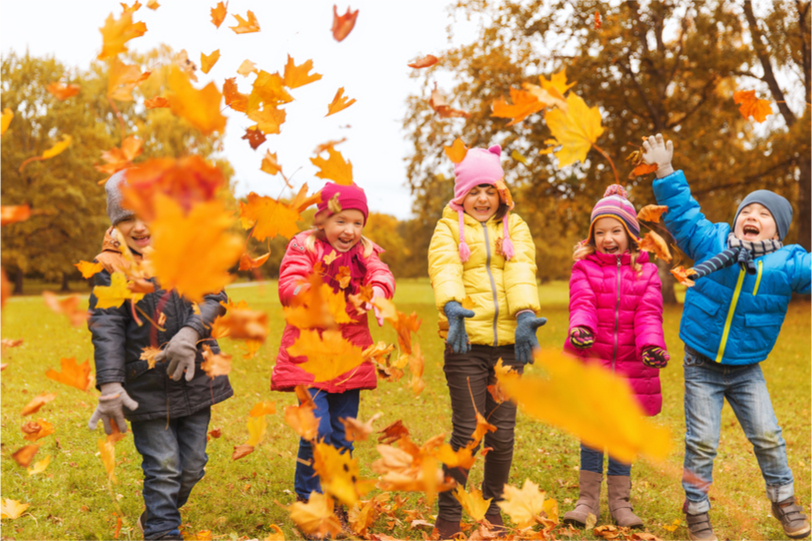 Go Apple Picking
Depending on where you live, it is likely that an apple orchard is just five minutes to a couple hours away from home. Call ahead and make sure that the crop is looking good and that the picking time aligns with your family calendar, then make a day of it! Bring a picnic lunch, dress comfortably and bring along your camera (okay, your smartphone) and snap photos in the picturesque orchards. This is a fun activity for all ages.
Tailgate at a Football Game
Prepare a batch of yummy food that is easy to transport and doesn't require a lot of prep time, and then bring along all the games and playthings your kids may want. You can set up a kid's zone (imagine a tiny football field in the parking lot), then let them run around, eat food, and have fun being a kid. Plan on watching the game, but don't worry if they don't make it all the way to the end of the 4th quarter – you can watch the last half on the DVR when you get home!
Visit a Pumpkin Patch
Autumn is a wonderful time to devote some hours to being outside, and a pumpkin patch is incredibly fun for all ages. Find one that offers hayrides, pony rides, a petting zoo, a nice-sized pumpkin patch, food and drinks, and other entertainment possibilities. Then bring home a couple of pumpkins and carve them together as a family!

Make a Leaf Collage
Kids love to explore, and the idea of picking up fallen leaves around the neighborhood, in a local park or in a natural area near the house is too much for them to resist! Have them wear a small backpack or carry a little sack, and help them fill their satchel with as many different types of leaves that they can find. You can then create a leaf collage and give it to a family member as a holiday gift!
Create Pinecone Artwork
In many parts of the county, pinecones are pretty easy to find by just looking on the ground during the Autumn months. Take your little one out and collect a small assortment of pinecones, then head back home and paint them using child-safe paint. Let them make a (controlled) mess, paint pinecones however they want, and set a few up in their bedroom as a reminder of your fun art project. You can even decorate a few as Christmas ornaments or holiday-themed house decorations if you'd like!
Plant Indoor Plants
While everyone thinks that spring is the ideal time to plant flowers, the cool weather months are the perfect time to create new indoor green spaces. Visit your local nursery and ask around to determine which plants and flowers grow well indoors in your area, and then make a fun project out of it. Kids love getting a bit messy and playing in the dirt, but you can limit the mess by having them pot the plants outside and then bring the finished product indoors.
Take Holiday Photos
Though fall may seem a bit early for this, you don't want to wait until it's almost the New Year to get your photos in the mail! Around mid-to-late October, begin planning your holiday-themed photo shoot with you and your little ones. You can take some pictures with silly Halloween outfits, do some in Thanksgiving-style attire, wear matching ugly sweaters, or keep it traditional and pose elegantly. You'll love getting this done early in the season, and your friends and family will appreciate being able to display your photos the entire holiday season.

Go on a Trip
Spring and summer are often packed with tourists wherever you want to go, and hotels and airlines tend to raise their rates during peak times of the year, so why not plan an Autumn vacation? Pack your bags and head somewhere warm. Or, show your kids what it looks like when the leaves change colors up in the mountains. Regardless of where you choose to go, pick a family-friendly location and enjoy reduced rates and greater value when you travel in the fall.
Creating memories with your partner, your little ones and your friends and family isn't a pursuit limited to one season. Fall is an idyllic time to get creative, celebrate your family, and explore the world. After all, isn't that what life's all about?