7 Fun First Birthday Party Ideas & Tips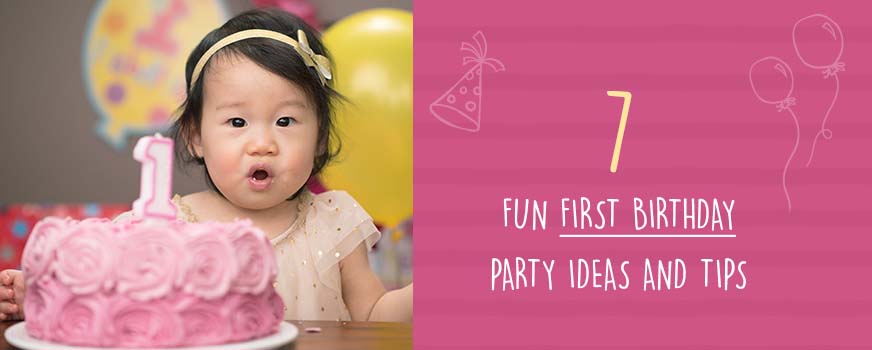 Your baby's first birthday is here! While this is an exciting day for every parent, if you've gone down the road of fertility treatments, this milestone is especially sweet. Planning your baby's first party is not only fun, but it's also a great time to get together with family and friends. Find first birthday party ideas and tips here so you can make some extra special memories!
Planning First Birthday Party Tips
Send Invitations
If you're going through the whole first birthday party planning process with a theme and everything, don't forget to add in some invitations! This is a great way to kick off whichever theme you choose with cute designs, and you'll also give your guests a chance to RSVP and keep their schedules open
Schedule Around Naps
Naptime is something you'll really want to pay close attention to when planning a first birthday party. If your baby has a very specific schedule, don't try to mix it up just to fit the party's timing. A sleepy, grumpy, or even asleep baby will lead to a first birthday party that isn't enjoyable for everyone.
Plan for the Adults
Of course, the main focus of your baby's first birthday is celebrating your baby! But the reality of it is, they're still far too young to remember the celebrations. The adults at your party will remember, though. From food to drinks, make sure the party is tailored to the adults attending so they can also enjoy their time celebrating your little one.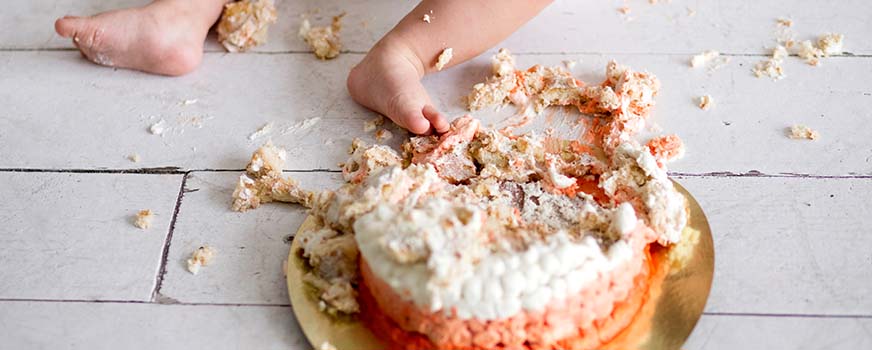 Consider a Smash Cake
Having a smash cake is one of the most fun first birthday party ideas, and has been a tradition for decades. Go with a small cake with fairly neutral flavors and minimal dye. Remember, this cake is going to be smashed, so whatever you put in front of your baby will end up all over skin, hair, and clothes! Be prepared for some adorable cleanup.
Take Pictures
Living in the moment is so important, especially for milestones like a first birthday, but you'll want to be sure to document this special occasion. Take pictures and videos throughout the day to save some of the sweet memories, from your baby with their smash cake to your loved ones spending this special moment with you and your baby.
Keep it Short
One-year-olds do as they please, when they please. Keep that in mind when you plan the timing of the first birthday party. A lot of people, being in a setting they're not used to, and being high-energy can put your baby on sensory overload quickly. Especially if you aren't at home, keep the first birthday party short to avoid any meltdowns.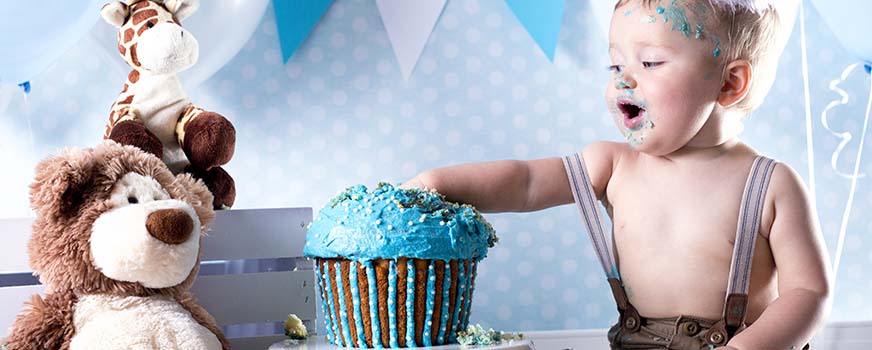 First Birthday Party Ideas
Animals
Even before your baby was born, you probably had a small collection of stuffed animals ready for baby cuddles. On their first birthday, bring out all the animals and have an adorable party! The animal theme is versatile too. You can go for pets, jungle, safari, woodland, dinosaurs, ocean, or anything in between to fit your party design.
Bees
You might be thinking, "Bees?" While a bee theme might have been able to fit in with the animals theme, it deserves its own spot for one pun alone: Happy First Bee-day. Decorate with cute yellow decorations and go with a honey theme for your food. After all, your baby is sweet like honey!
Characters
As a new parent, you've probably caught on to just how catchy a song from a children's show can get, or how much time you actually spend getting to know the characters from how often you watch with your baby. Bring all these "familiar" faces to their first birthday party in a character-themed birthday.
Cute & Trendy
Head over to Instagram or Pinterest, and you'll see a number of adorable first birthday ideas. From trendy monochrome decorations to cute pastel rainbow designs, there are a lot of trendy party inspirations on social media that will make everyone want to post about your party. Why not come up with a hashtag for your party, too?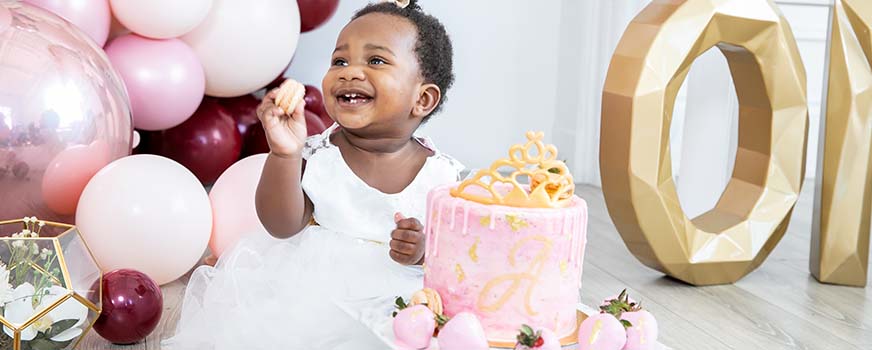 Fantasy
Princesses, mermaids, unicorns, wizards, dragons, the list could go on! Fantasy first birthday party ideas are a fun way to get whimsical and add a bit of magic to your celebrations. Have a special (and comfortable) birthday crown to make those smash cake photos even cuter.
Space
For a truly out of this world first birthday party, consider a space theme and really shoot for the stars. Rocket ships to launch into the next year, balloons turned into planets and asteroids, and maybe even a visit from some alien guests will help make this first birthday one to remember.
Sports
Your baby might be too young to have a favorite sport, team, or player, but that doesn't mean you can't do a sports-themed first birthday party! From flashy team colors to fun balls, sports are a great theme for babies to enjoy, even if they haven't caught a game yet.
Using these first birthday party ideas and tips, you are sure to have an amazing time creating memories with your baby and loved ones. If you've gotten here after your fertility journey, it's certainly an extra reason to celebrate your bundle of joy and the exciting year you've had – along with the many months and years ahead of spending time with your family.