14 Family Holiday Activities to do with Children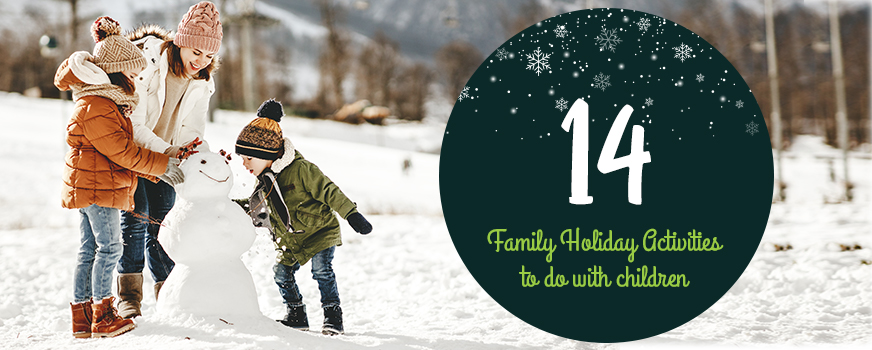 The holidays are some of the most fun times to cozy up at home and do activities with the family! Make hot chocolate, gather around the fire, and create some jolly memories with these fun holiday crafts and activities everyone will love.
Family Holiday Activities
Bake Holiday Cookies
Sweeten up your holidays with a tasty baking session at home! Not only is this family holiday activity fun for the kids, it's great for adults as well! Pick out festive baking decorations and cookie dough that the entire family loves and get to baking. Once they're out of the oven, put on some fun Christmas music and spend a couple hours decorating the cookies with the kids.
Plan a Holiday Photoshoot
The holidays are one of the best times of year to squeeze in a family photoshoot. Whether you want professional photos with your entire family or a casual photoshoot at home in matching pajamas, the outcome will definitely be worth it. Plan ahead and get them done just in time for holiday cards, or simply save them in your family photo album.
Play Secret Santa
This family holiday activity is especially awesome if you have a large family, but you can do it with any number of people. Set a reasonable spending limit so that you don't break the bank, and get creative with presents for those you care about most! This is a great opportunity to have the kiddos create adorable DIY gifts!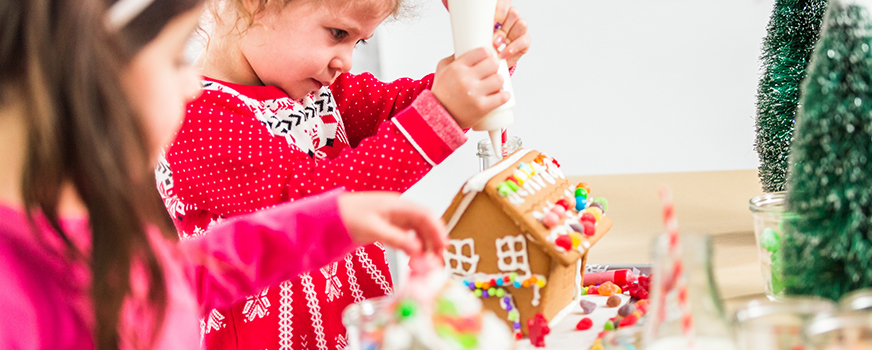 Decorate Gingerbread Houses
Celebrate the spirit of the holiday season by decorating gingerbread houses! While it can be fun to make the gingerbread yourself, you can always opt for pre-made houses from your local grocery store. Get the whole family together and have a friendly little contest to see who makes the prettiest gingerbread house! Don't forget to put them on display as special holiday decorations.
Go Ice Skating or Sledding
As soon as the first day of winter hits, it's time for classic outdoor activities like ice skating and sledding. Grab the kids and bundle up in your warmest attire for a memorable day of laughs and giggles out on the ice or in the snow. Top off the day with a cozy cup of hot cocoa and marshmallows!
Drive by Your Local Christmas Lights
The colorful lights of Christmas are a beautiful sight to see each holiday season. Pack up your car with the whole family and drive around to gaze at the decorated houses in your town. You can even do a little research to see if there are dedicated neighborhoods with an annual showcase of Christmas lights.
Have a Holiday Movie Night
Chilly winter weather calls for nights cuddled up by the fireplace! Add some festive cheer to your night at home with a holiday movie night. Involve the kids in choosing their favorite line up of movies and maybe even help them build a blanket fort for an extra touch of fun! Munch on some yummy treats like candy canes and cookies and relax with the family.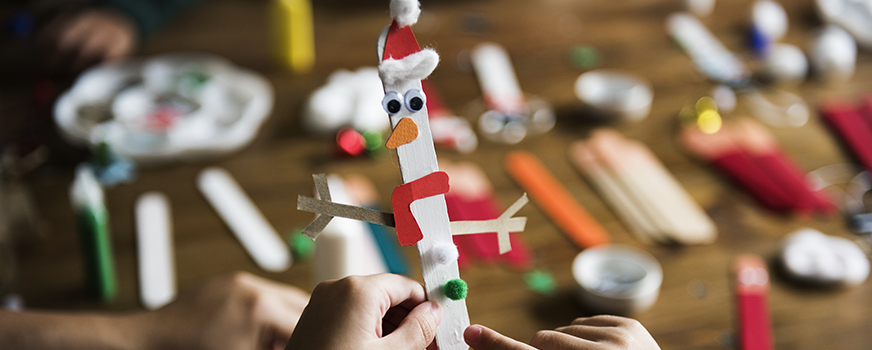 Holiday Crafts for Kids
Make Frosty the Snowman proud by helping your little ones make this wooden snowman ornament! All you need is leftover popsicle sticks (or craft sticks), paint, glue, twine, and foam stickers to create a happy snowman ready for display in your home. Hang these crafts on the tree or string them up along your wall as a family craft decoration.
Put those pine cones in your yard to use with this holiday craft for kids! These easy-to-make pine cone trees are wonderful ornaments for your Christmas tree and look cute lined along your mantlepiece as well. Simply spray paint the pine cones, hot glue wine corks as tree trunks, and include additional decorations like glitter, beading, and stars.
Before you put those empty toilet rolls in the trash, try this festive holiday craft for kids! The toilet roll reindeer is a super cute DIY ornament that is perfect for young ones. Gather up brown wallpaper samples, brown pipe cleaners, red buttons or pom poms, googly eyes, and glue to transform an ordinary toilet paper roll into Rudolph the Red-Nosed Reindeer!
Get creative with paper plates, paint, and pom-poms as you craft up these colorful Christmas trees! This holiday craft is fun for all ages, especially your littlest ones that aren't old enough for more complex projects. Some cutting, glueing, and taping quickly turns your plate into a cone-shaped tree ready for green paint and faux ornaments!

Turn your home into candy cane lane for a day by getting all of the kids together to create candy cane ornaments made out of felt! This holiday craft for kids is great because it's a little more advanced and requires sewing, which gives you the perfect opportunity to teach your little ones a new skill! 
All you need to do is cut two candy cane shapes out of felt and sew them together. When you're halfway done sewing, stuff the candy canes with cotton and then add the final stitches.
Snow globes are a fascinating decoration for both kids and adults, so why not make your own this holiday season? Fill your globes with festive toys like penguins, snowmen, or Santa and add in pinches of glitter for a sparkly final product!
Christmas paintings are some of the coolest holiday crafts for kids because you can easily frame them and preserve them for years to come. Check out these salt paintings you can recreate at home with your kiddos! Use salt for snow and washi tape to outline trees and the result is truly magical.
Celebrating the holiday season is a blast when you're surrounded by family and friends. Make this year extra special by trying these holiday activities for kids! If you're looking for more to do with your family year-round, take a look at our at-home activity guide for families.