Series: Get to Know Us – Michelle Tong
Red Rock Fertility Center team is committed to all the growing families that walk through our doors looking for treatments. We provide the best service and expertise to all our patients crafted through personal relationships between our staff and the new families. To get to know our Red Rock team better, enjoy our Get to Know Us Series!
Our staff spotlight this month is Michelle. As a valued team member at Red Rock Fertility Center, Michelle, our Authorization Specialist, not only helps our patients when it comes to building a family, but she always works hard to answer any and all questions about insurance and other administrative asks. Michelle works with our patients before pregnancy, during pregnancy, and once the families welcome their babies into the world. Come meet Michelle and the rest of our amazing staff at Red Rock Fertility Center today and schedule your first appointment with our team.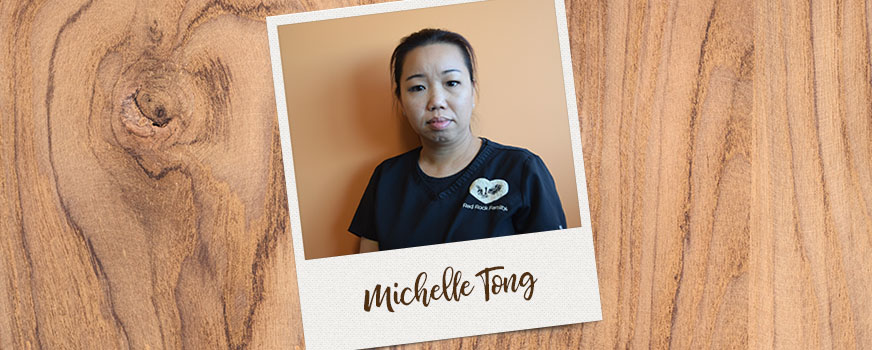 Tell us about a typical day at work for you.
Be available to answer questions relating to patients, insurance and any other administrative duties.
What's the most exciting part of your job?
When we have positive pregnancy, see the babies, and most importantly approve authorization for patient[s] to go through testing or treatment.
Tell us about the relationships you're able to form with each of your patients. How does your role impact their overall experience at Red Rock Fertility Center?
Working with patient[s] and educating them about their insurance benefits and coverage relating to fertility.
What do you think makes Red Rock Fertility Center a unique place for fertility treatment?
It's the back end of administrative duties that [the] patient does not see or hear before they walk through our doors. We will go above and beyond.
How is the team at Red Rock Fertility Center unique to the market?
We work with patient's insurance, obtain updates, and educate ourselves with their benefits. It's an ongoing change in the insurance & healthcare industry and we need to know this and update our office/patients. We strive to educate ourselves in dealing with the change.
What is your favorite food and/or restaurants?
Anything rice.
What do you enjoy doing in your free time?
Watch[ing] movies.
What is your favorite place to visit? Any places you'd love to visit?
Asia and rural areas.
What is your greatest accomplishment? (Personal, professional, etc.)
My wonderful kids.
How long have you been in Las Vegas and what's your favorite part about this town?
Almost 7 years, it's the sense of community.
Is there anything you can't live without?
My kids, family, rice, and wide open roads.