When to Announce Your Pregnancy & 7 Announcement Ideas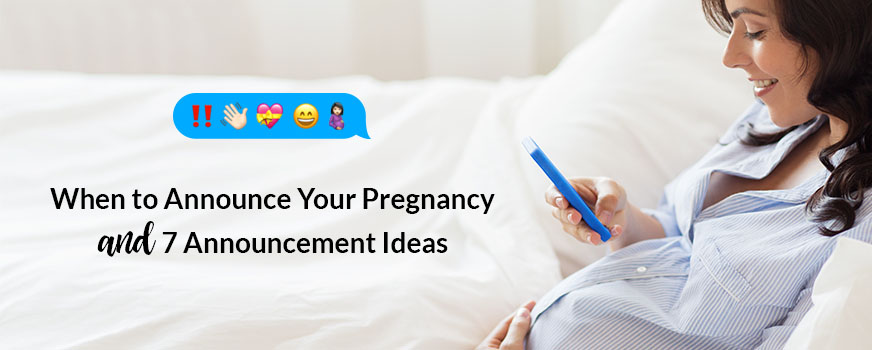 Announcing your pregnancy to your loved ones is an exciting moment, especially when you have been on an infertility journey. Deciding to announce your pregnancy can take a lot of thought and consideration. At what stage in your pregnancy should you share the news? Should you tell everyone at once, or reserve the first announcement for a select few? What's the best way to tell your friends and family? Find ideas on when and how to announce pregnancy news below!
When to Announce Your Pregnancy
After an infertility journey, you are likely to be eager to share the news as soon as possible! Choosing when to announce your pregnancy is of course always personal preference.
Many expecting parents tend to wait until after the first trimester, or some time between week 12 and 14, to make the pregnancy fully public. This is because about 80% of miscarriages occur within the first trimester. The risk of miscarriage after 12 weeks drops to less than 1 percent, making that timeframe a more popular, confident time to announce your pregnancy. Another popular time to announce publicly is once gender is revealed, around 20 weeks.
If waiting for that 12-14 week mark feels too long, consider telling your loved ones in stages. If expecting with a partner, share the news with them first! Then, in the following weeks, announce your pregnancy to immediate family such as parents and siblings. Share this information with people you are comfortable talking with in the unfortunate event of complications Hopefully, you will have a healthy pregnancy that you and those close to you can celebrate throughout your first trimester and beyond.
How to Announce Your Pregnancy
Just like with your timing, deciding how to announce your pregnancy is all up to personal preference and what you feel comfortable with.
Announcing to your partner and those close to you first is the best way to help make everyone feel included and in the loop about your great news. Try to make these reveals more intimate than a post on social media or a text, if you can. See them in person or give them a call so they can hear your voice to add a sense of intimacy that words on a screen just don't convey as well. Sending over a photo also gives another element of personalization, and something that your parents or grandparents may enjoy framing for a keepsake of the moment.
When it comes time to announce on a more public forum, have fun with it! You can be as serious or creative as you'd like, whatever method fits your personality. You can send pregnancy announcements to family and friends while sharing the news with your entire network via social media. Keep in mind that announcing on social media will likely lead to a flood of congratulatory notifications. Also be mindful of when you want everyone to know – if you want to tell some people and not everyone all at once, news of a new bundle of joy spreads fast.
Pregnancy Announcement Ideas
Clothing
This simple but cute pregnancy announcement idea only requires some cute clothes and a camera. You can either get crafty or shop personalized pregnancy announcement shirts online for the items that fit your style perfectly. "Baby on Board" beach hats and "Big Sister/Brother" bandanas for your fur babies are also cute items.
Little Items
One of the classic pregnancy announcements is photographing a small version of an item next to their regular-sized counterparts. Use a pair of your shoes, your partner's shoes, and baby shoes to show off your new addition! Other cute ideas include a onesie hanging with your laundry, big and small paper clips, or two mugs and a baby bottle.
Puns
Nothing quite beats a good pun for a pregnancy announcement. Using a chalkboard or letterboard, think of a clever way to announce your pregnancy. In your kitchen, place the board next to your oven with a bag of buns and the test, "Bun in the oven." Or, use "Ice, ice, baby" while holding up 2 bags of ice. This announcement is perfect for social media!
Siblings & Pets
Okay, there's one thing that beats puns for announcements, and that's when you throw siblings and pets into the mix. Use your children or fur babies to announce that they are being promoted to big brother/sister. Showing off your whole, growing family is a precious way to get everyone involved in sharing your big news.
Tests & Ultrasounds
Simply sharing an image of your positive pregnancy test results or a picture of your ultrasound can leave a big impact. When sharing these images, put a note of when you are due along with a sweet message. Sometimes planning out a full photo shoot for a pregnancy announcement isn't very feasible, but this option is both simple and sweet.
Video
You've probably seen them everywhere and have felt your heartstrings pulled: videos of pregnancy announcements. Share your news publically by sharing a video of you telling some of your closest loved ones about your pregnancy. The organic reactions of people finding out they will be a parent or grandparent are truly magical.